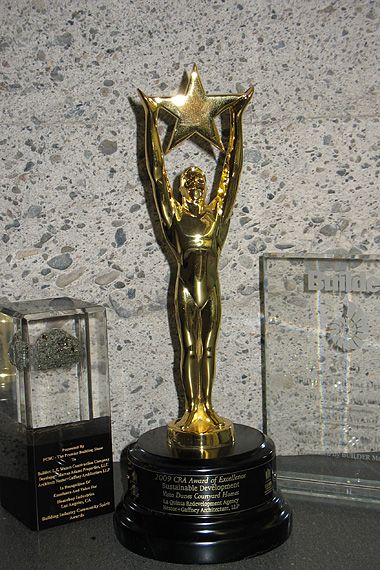 AWARDS & RECOGNITION
2009 Citation Award | Gallo Center for the Arts – Modesto, CA
American institute of Architects / San Fernando Valley Chapter
2009 Grand Award | Vista Dunes Courtyard Homes – La Quinta, CA
Builder's Choice Awards - Green/Sustainable Community
2009 Grand Award | Vista Dunes Courtyard Homes – La Quinta, CA
Builder's Choice Awards - Affordable Housing Project
2009 Merit Award | Vista Dunes Courtyard Homes – La Quinta, CA
Pacific Coast Builder's Conference Gold Nugget Awards
Residential Community of the Year – Attached
2009 Merit Award | Vista Dunes Courtyard Homes – La Quinta, CA
Pacific Coast Builder's Conference Gold Nugget Awards
Sustainable Residential Neighborhood – Attached
2009 Merit Award | Vista Dunes Courtyard Homes – La Quinta, CA
Pacific Coast Builder's Conference Gold Nugget Awards
Outstanding Affordable Project – under 30 du/ac
2008 Sustainability Award | Vista Dunes Courtyard Homes – La Quinta, CA
Developer Magazine
2008 LEED Platinum | Vista Dunes Courtyard Homes – La Quinta, CA
U.S. Green Building Council
2008 LEED Gold | Ladera Corporate Terrace (Building 999) – Ladera Ranch, CA
U.S. Green Building Council
2008 Gold Award | Ladera Corporate Terrace (Building 999) – Ladera Ranch, CA
Brick in Architecture Awards
Best in Commercial Architecture
2008 Grand Award | Homeboy Industries – Los Angeles, CA
Pacific Coast Builder's Conference Gold Nugget Awards
Building Industry Community Spirit Award
2008 Merit Award | Olive Court – Long Beach, CA
Pacific Coast Builder's Conference Gold Nugget Awards
Best Affordable Project, 30 du or more
2008 Merit Award | San Dimas Grove Station – San Dimas, CA
Pacific Coast Builder's Conference Gold Nugget Awards
Best On-the-Boards Site Plan
2008 Honor Award | Phillips Block Building - Santa Ana, CA
City of Santa Ana, Preservation Award
Outstanding Rehabilitation Award
2007 Honor Award | The Gallo Center for Performing Arts – Modesto, CA
American institute of Architects / Sierra Valley Chapter
2007 Honor Award | San Dimas Grove Station - San Dimas, CA
Southern California Association of Governments
Compass Blueprint Awards
2007 Honor Award | Olive Court - Long Beach, CA
Southern California Association of Governments
Compass Blueprint Awards
2007 Honor Award | Phillips Block Building - Santa Ana, CA
City of Santa Ana, Preservation Award
Outstanding Preservation Project
2006 Merit Award | Burbank Village Walk - Burbank, CA
Pacific Coast Builder's Conference Gold Nugget Awards
Best Attached Housing
2005 Merit Award | East Village Lofts - Santa Ana, CA
Pacific Coast Builder's Conference Gold Nugget Awards - Best Loft Project
2005 Honor Award | Phillips Block Building - Santa Ana, CA
City of Santa Ana, Rehabilitation Award
Outstanding Preservation Project
2005 Honor Award | East Village Lofts - Santa Ana, CA
(California) Society of American Registered Architects
2005 Grand Award | East Village Lofts - Santa Ana, CA
Pacific Coast Builder's Conference Gold Nugget Awards
2005 Honor Award | The Gallo Center for Performing Arts – Modesto, CA
American institute of Architects / Sierra Valley Chapter
2004 Honor Award | Old City Hall (DGWB Advertising) - Santa Ana, CA
City of Santa Ana, Restoration Award
Outstanding Preservation Project
2004 Merit Award | Ladera Corporate Terrance (Building 111) - Ladera Ranch, CA
Pacific Coast Builder's Conference Gold Nugget Awards
Best Office/ Professional Building
2004 Merit Award | Sole Technology - Lake Forest, CA
Pacific Coast Builder's Conference Gold Nugget Awards
Best Office/ Professional Building
2004 Honor Award | Artist Walk Lofts - Santa Ana, CA
American Institute of Architects / Orange County
Best Live/Work Project
2003 Merit Award | City Walk - San Diego, CA
Pacific Coast Builder's Conference Gold Nugget Awards- Attached Housing
2003 Honor Award | Sole Technology - Lake Forest, CA
(National) Society of American Registered Architects
2001 Grand Award | DGWB Advertising - Santa Ana, CA
Pacific Coast Builder's Conference Gold Nugget Awards
Best Rehab Commercial/ Industrial Building
2001 Citation Award | The Gallo Center for Performing Arts - Modesto, CA
American Institute of Architects/ San Fernando Valley Chapter
2001 Merit Award | DGWB Advertising - Santa Ana, CA
American Institute of Architects / Orange County Chapter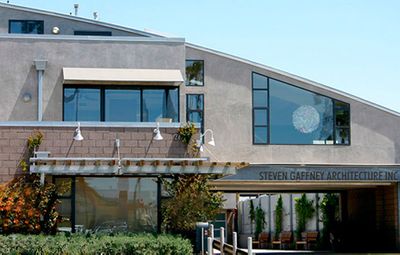 Steven Gaffney Architecture, Inc. (SGA) is an award winning architectural firm specializing in civic, cultural, commercial, retail/mixed-use and high-density residential projects throughout California and the West.
Based in Orange County, California, the firm continues to advance a determined "hands-on" approach for over a decade, incorporating extensive team participation experiences, to establish design direction and implementation in a logical and timely fashion.
SGA's commitment to sustainability via energy efficient building systems, preserving appropriate selection of materials and form to maximize environmental conditions and long term performance has continued to diversify and expand the firms' services and project portfolio. To further demonstrate our commitment, all of the firm's personnel are LEED™ Accredited Professionals.
SGA's work is widely known and recognized in the construction industry as exemplary.
MANAGEMENT TEAM
A key departure point for SGA is our philosophy which is based on SERVICE. We believe in strong Principal commitment to each project and the number of projects that the firm will undertake will be limited to that which can be realistically serviced. Architecture and construction is more than meetings and numbers - it is the sum of the aspirations of numerous participants of a wide variety of backgrounds and experiences which, together, can create winning compositions for both the balance sheet and the design awards. Further, we take the responsibility seriously that people build their lives in the environments which we create.
The Team is the essential building block of the project. Cooperation, coordination, and mutual respect and trust are the key components for success of the team. We believe that "pride of ownership" is important for everyone involved in the team. Attention to detail and the interactive process are two aspects in which we all strive and succeed under this team structure.